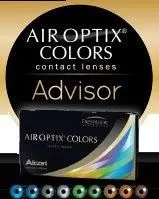 We are pleased to offer a wide variety of lens options that allow us to correct most vision problems, even complicated astigmatism and bifocal issues.
We also offer Air Optix Colors contact lenses for truly stunning colors you enjoy wearing!
We are excited to offer our current patients the opportunity to order contact lenses online! Pay with a credit/debit card and have your contact lenses shipped directly to your home. If you are a patient registered to order your replacement contact lenses on our web site, please "LOGIN using your USERNAME and PASSWORD". If you have not been previously registered to order replacement contact lenses on our web site, please contact our office or click "New Patient Signup" to register. Your order will be processed according to the current expiration date of the prescription, which when written by our doctors is valid for one year.
Contact lens fitting fees are based on the level of complexity of the contact lenses and the amount of time required to obtain the correct vision and best comfort. Your doctor will discuss the best plan for your specific needs. All the fittings listed below include initial tear film and cornea evaluation, evaluation of contact lens function, and the necessary follow-up visits. The fees also include training on insertion and removal of the lenses and care instructions.
All fees are discounted by $30 if the patient has worn contact lenses previously and can already insert and remove the lenses without difficulty.
Level 1 = $75 Spherical fitting or refit to different brand/type of lens, includes follow-up visits for 30 days.
Level 2 = $120 Soft Toric/Soft Multifocal/Soft Multifocal Toric fitting or refit, includes follow up visits for 60 days.
Level 3 = $165 Rigid Gas Permeable lens fitting, includes follow up visits for 90 days.
Level 4 = $210 (or greater) Hybrid/Scleral/RGP Specialty lens fitting, incudes follow up visits for 120 days.

Warranty and Exchange Policy

1. A contact lens prescription cannot be released until the doctor finalizes the prescription. In order to finalize the prescription, the patient must return for the follow up appointments.
2. Multipack lenses may be exchanged for product of equal value for 6 months after the date of the dispense if the boxes are unopened and are at least 24 months from the expiration date listed on the box.
3. Tinted contact lenses cannot be returned or exchanged.
4. Vial lenses may be returned within 60 days if they are defective or the doctor changes the prescription.
5. Rigid gas permeable lenses have a 30 day warranty against defects.
6. Insurance and contacts: If the patient fails to return for follow-up visits within 30 days after the initial exam and fitting, our office will file the claim with the patient's vision plan for our services (exam and fitting fees). Also, if lenses are returned for credit and were covered by your insurance, our office will refund the insurance company and ask them to reinstate your benefits.