At Pflugerville Vision Care, our staff is friendly and professional. Our commitment is to provide exceptional customer service to all of our patients. We take pride in our personalized care and strive to spend the necessary time with each patient to ensure a comfortable experience. We also have knowledgeable optical staff that will help with frame selection from out large stylish collection and inform each patient of the best lens options for their individual needs.
---
Jesenia Steele
Office manager
Jesenia has been a very important part of our office for over 15 years. Fluent in Spanish, she helps patients at the front desk by answering all questions, including those about insurance. She also performs preliminary testing, dispenses contact lenses, and adjusts glasses. Outside the office, Jesenia loves spending time with her family and watching sports of any kind.
---
Trinidad Rangel
Trinidad has been with PVC for 15 years. Her proficiency in all aspects of the office, including the front desk, preliminary testing, dispensing contact lenses as well as adjusting glasses, along with her delightful sense of humor make her a valuable asset to our staff. Outside of the office, she enjoys spending time with her children and a vicious little chihuahua named Luna.

---
Nicole Herrera

Nicole has been with PVC since June of 2016. She performs preliminary testing on patients, dispenses contact lenses, and schedules appointments. When not working, Nicole enjoys spending time with her family.
---
Gigi Johnson
Gigi has been with PVC for over six years. She works in the optical assisting patients with frame and lens selections. She also dispenses, adjusts and repairs glasses. Her interests include fashion, music and photography. In her spare time, she enjoys walking, running and riding bikes with her son, Tyler. Presently, Gigi is working part time while pursuing a new career in real estate.
---
Janice Bullard
Janice has been with our office for over 25 years. She manages the insurance claims, billing and payments. Her expertise is invaluable. She spends her spare time volunteering at her church and spending time with her family.

---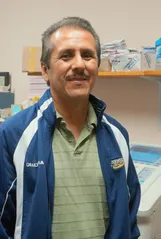 Enrique Castellanos
Enrique has been our lab technician for 10 years. Though rarely seen by our patients, he provides the vital service of lens cutting and frame repair. He lives in Pflugerville with his wife and children.